Follow Us
on Linkedin
ISO/TS Certified Corporations
email us: info@gosen-ball.com
About Gosen
Gosen is a supplier of precision steel balls with high quality for global markets which include Automotive, Aerospace, Cosmetics,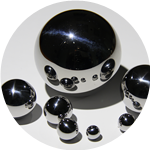 Consumer, Electronic, Medical, Household Appliances and Industrial Machinery.
Our balls are with rich variety and large inventory which will save customers much time and cost. The material is ranged from carbon steel, stainless steel, chrome, copper, tungsten carbide to coated balls, with size 0.3mm~63.5mm in grade ABMA 10~2000.
Gosen's manufacturing principle is based on highly trained operators working in processes with standardized work methods and advanced machines. Our team's efforts are on continuously high quality, on-time delivery and improved productivity to decrease costs. With these goals in mind, Gosen will help customers achieve lower cost, quicker turnaround and the highest quality production possible. We sincerely expect long term cooperation with all of the abroad customers.
Call us to discuss your business with Gosen today!