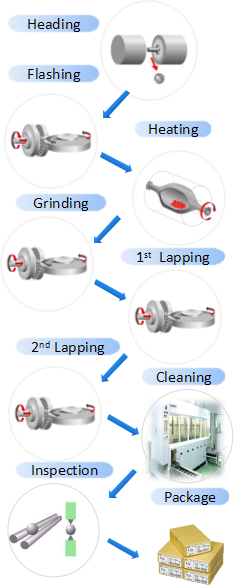 HOW GOSEN STEEL BALLS ARE MANUFACTURED

Heading
Material wire is headed into spherical blanks by high speed automatic machines. The accurate blanks obtained in this process have positive effect on the subsequent processes.

Flashing
Headed blanks are roughly ground during rotation under high pressure in disk grooves of special cast-iron. Balls are repeatedly fed into the grooves by means of a rotary conveyor.

Heat Treatment
Balls are heated, quenched, and tempered in a fully controlled automatic furnace. These procedures give the balls maximum strength and durability.

Grinding:
Here the hardened balls are ground to improve surface finish and geometrical parameters. Several careful grinding processes with ceramic wheels lead to a higher size precision preparing the balls for the next final lapping operation.

Lapping:
The lapping operation gives the ball a perfect bright, compact surface, without any defect, with a very low surface roughness, very low deviations from spherical form, very low roughness values, very low waviness values and total lack of surface defects assured by optical control machines. These four basic parameters guarantee final customer an extremely qualified product for its relevant use.

Cleaning
Balls are thoroughly cleaned to eliminate stains, dust, and steel powder from the ball surface.

Inspection
To ensure the highest quality, each and every parameter of the balls is thoroughly inspected before packing and dispatch. All precision, hardness, material features, etc. are tested at every stage of the production and again before shipping, at the end of the manufacturing process, in order to assure and guarantee the quality.

Package:
Automatically counts, applies preservation coating and customer's requirements.